Rooms
1A/KGR suite
2A
2B
3A
3B
Photo
Size (sq. ft.)
709
280
366
420
420
Beds
1 Queen
1 Queen
2 Full
1 King
1 King
Maximum Guests
2
2
4
2
2
Rate per day (1 or 2 guests)
$240
$175
$241
$208
$208
Amenities
Private bathroom
•
•
•
•
•
Mini Refrigerator
•
•
•
•
•
Microwave/Coffee Machine
•
•
•
•
•
Coffee, Tea, Hot Chocolate
•
•
•
•
•
Table & Chairs
•
•
•
•
•
TV with DVD/VHS player
•
•
•
•
•
Ceiling fan
•
•
•
•
•
Hair Blow dryer/Hand Mirror
•
•
•
•
•
Shower wands
•
•
•
•
•
2 person Whirlpool tub
•
•
Bar and liquid bath soap
•
•
•
•
•
Bottled water at Check-in
•
•
•
•
•
AC/Heat self controlled
•
•
•
•
•
Luggage rack
•
•
•
•
•
H2O pump/Inline H2O heater
•
•
•
Free Wi-Fi
•
•
•
•
•
Private covered deck
•
•
•
•
•
Boat Parking
•
•
•
•
•
Weber Grill access
•
•
•
•
•

Perfect Rooms for Both Romantic Getaways & Group Vacations
Terrapin Peak Bed, Breakfast & Beyond near Lake Tenkiller, Oklahoma offers the best of both worlds. You can experience the great outdoors in a rustic and secluded setting, while enjoying clean, comfortable and contemporary lodging.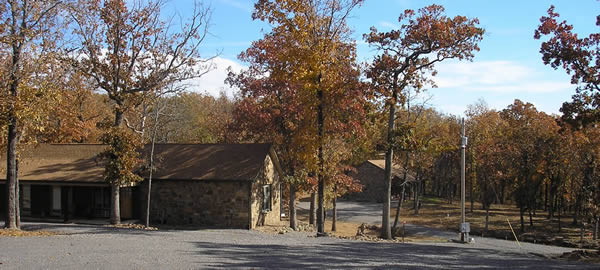 There are 3 separate cabins placed 180 feet or more apart with separate bedrooms each with private bathrooms. These unique cabin rooms provide the privacy of a vacation rental combined with the amenities and hospitality of a bed and breakfast, making it ideal for a romantic hideaway for two, group travel lodging for a
business retreat
or a vacation with family or friends.
Outside each building/room in a nearly spider web free environment, guests can enjoy spacious covered decks including deck furniture and at least an acre view of groomed, close canopy woods. There is landscape lighting for safety and to view bountiful wildlife, but doesn't restrict a star-to-treetop view of the clear night sky. Deer and bird feeders are near every building with feed being supplied daily. Ample boat parking with water and electric hook up are available outside every room.