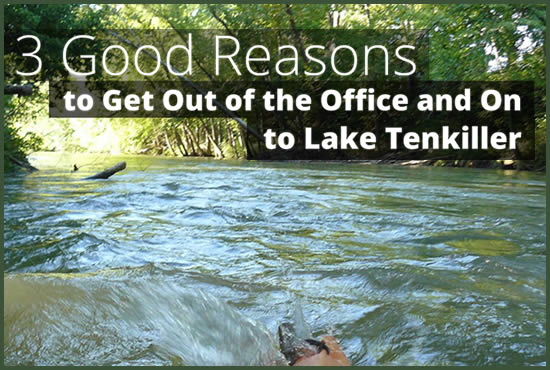 Whether it's physically, or mentally, we spend the majority of our lives in our offices. From our daily commute and working overtime, to the office drama and dinner table recap – we put way too much focus on our work.
While this might seem like a simple issue of work/life balance, it's actually harmful to our health. The amount of stress we carry around from work can take toll on our immune systems and also our personal relationships.
The solution to this seems simple enough: Just plan a getaway!
However, on second thought— you have to budget out travel expenses, book a hotel room, map out an agenda… all of that sounds, well… pretty stressful.
This is one of the many reasons why Lake Tenkiller is so great. It's a stress-free getaway that contains the perfect mixture of adventure and tranquility. There's no competing with massive crowds, and depending on where you're coming from, it's pretty simple to get there, too.
Most importantly, it's a guaranteed way to break the monotony of the office place. Here are a few ways Lake Tenkiller can help you escape the office and get on the lake!
Instead of staring at your computer screen…
Stare at the clear, emerald-tinted water and breath-taking wooded shoreline.
Located in Oklahoma's the foothills of the Ozark Mountains, Lake Tenkiller is one of the state's most scenic lakes. Simply observing it's stunning waters, rolling hills and picturesque trees is enough to make you forget about your work completely.
Along with the lake itself, the hiking trails are ideal for nature watching, and make for exquisite views of the sunset. Your work life will be the furthest thing from your mind.
1.Trade water cooler gossip sessions for water sports sessions!
Lake Tenkiller's strikingly beautiful waters allows for a wide variety of water sports. This includes boating, fishing and swimming. The lake actually attracts so many SCUBA enthusiasts that Tenkiller State Park has added an underwater dive park that features submerged objects such as a plane fuselage, sunken boats and even a helicopter.
If something less "extreme" is more your style, simply relax along the shore or go for a quick dip in the beautiful emerald waters.
Now these will make for great water cooler chats!
2.Get away from that stale and stagnant office air and enjoy the air of the cool, crisp outdoors.
Lake Tenkiller is the perfect place for any outdoor lover! With bed and breakfasts, resorts and cabins to hiking trails and nature paths, Lake Tenkiller is sure to have something for you and your level of adventure.
Simply being outdoors and out of that stuffy office place will do wonders for you.
This is doubly true if you decide to take up bird watching at Sequoyah Wildlife Refuge, or tour the State Park's nature center. All of these wonderful outdoor experiences are restorative, as well as fun.
3.Say goodbye to your daily commute and say hello to boat rides, and other creature comforts.
This scenic lake comes with more than just campgrounds and hiking paths. You'll find numerous boat launches, restaurants, golf courses and more.
So, just because you're visiting this scenic lake, doesn't mean you have to rough it. There's plenty of opportunities to enjoy great food, and the indoors, too.
These are just a few wonderful reasons to escape to Lake Tenkiller. If you've had a rough week at work, it's great for a quick weekend getaway. But we imagine one weekend won't be enough.
Get out, explore the lake, and give yourself the break that you deserve. We at Terrapin Peak Bed Breakfast And Beyond love the lake, and we want you to love it as well. By staying with us, you'll not only directly experience Tenkiller's charm, but you'll also be staying with native and locals, who can ensure you're having the best experience possible.
Enjoy our passion with us!