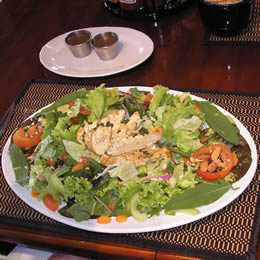 Terrapin Peak has a commercial grade kitchen and Chef "What's His Name" is delighted to offer you hot gourmet meals for breakfast or dinner.
Do check out our Breakfast Menu or Dinner Menu.
Several menu options are available in various price ranges and can be personalized to fit your needs. Or you come up with your meal plan and we'll make it work.
Pricing is based on menu items, one meal selection per party and number of guests in the party. Don't miss the opportunity to enjoy your favorite meal prepared by Chef "What's His Name".
Chef's 2 cents
Did you know that 90% of restaurant food is mass produced and shipped after cooked then frozen ready for reheating? Did you know that fried food is bad for you – but is desired for fast, cost effective means to feed people? You'll be pleased to know that "gourmet" doesn't consist of the above – at least not in my kitchen!
My kitchen is my passion and I'm proud to give a tour upon your arrival.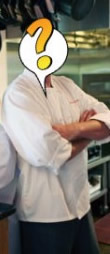 I never wanted to be famous (hence my title, Chef What's His Name). I just want a quiet productive life to share with others on a personal level, which is where you come in. Do you have allergies to certain foods? Can't palette certain tastes? Want to learn certain recipes? Want to be entertained?
Then you are in the right place!
My kitchen is where I always feel most at home. Healthy eating is my forte. I grow fresh herbs and prefer to remove most fat from meats. Even my French fries are baked for a healthier alternative. Outdoor grilling has the most flavor, but a pan-seared creation with a flavorful sauce can be done less expensive.
I'm a one man show (with a little help from Genny), so I ask for two weeks notice to give me time to understand your needs, plan your meal, get fresh ingredients, and time to wear some of my other hats that ensure your "beyond" stay.
For the most part I try to prepare enough food for you to eat twice. Such as 2" thick steak. Are you a bigger eater and want 3"? No problem. Trust me with your leftovers and I could create another great meal for a little more, like a steak and eggs breakfast or perhaps julienned for a steak tortilla wrap. A little planning can trim your cost a lot. For a meal such as pork ribs BBQ style, it takes one day to prep the meat and one day to cook and serve. Order an extra rack or two and I will vacuum seal and freeze it for you to take home.
I am confident that at Terrapin Peak you will find some of the best food around. And while the hot gourmet meal side of our business is a small part of what we do, we do it because it's our passion – and you are worth it.
Chef What's His Name
Click here to see our Breakfast Menu
Click here to see our Dinner Menu