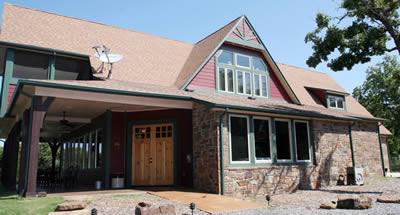 Terrapin Peak Bed, Breakfast & Beyond provides Oklahoma lodging just 2 miles off the Cherokee Hills National Byway (Highway 82/100), perched on a foothill of the Ozark Mountains 850 feet above sea level, in the woods near Lake Tenkiller (2 miles from the lake) in Cookson, OK.
Terrapin Peak accommodates up to 12 guests in three luxurious cabins – Cozy Turtle, Scenic Turtle and Snappy Turtle – a private distance from the Main House and each other.
Cozy Turtle Cabin features a 10-foot wide wrap-around covered deck, full kitchen and with all the conveniences of home, private bedroom and is perfect for extended stay reservations for 2 people.
"Thank you very much for a wonderful holiday vacation. You are the best host/hostess of any B&B we have experienced."
Read more about Cozy Turtle Cabin here…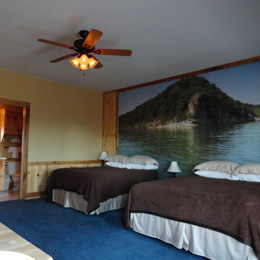 Scenic Turtle Cabin features two covered decks with terrific views with two over-sized rooms each with their own bathrooms offering plenty of private space for up to six people.
"A superb stay. An absolutely wonderful time highlighted by the hospitality and graciousness of our delightful host and hostess."
Read more about Scenic Turtle Cabin here…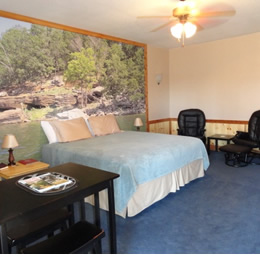 Snappy Turtle Cabin, perfect for honeymooners and couples celebrating a special occasion comprises larger rooms, bathrooms with two-person whirlpool tubs / shower combo and private covered deck with porch swing.
"Thank you so much for making our anniversary so special. Look forward to seeing you this fall."
Read more about Snappy Turtle Cabin here…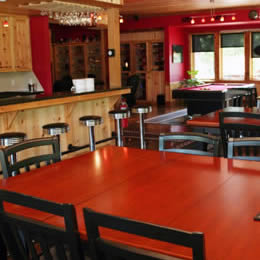 The "lodge-style" Main House, the Terrapin Peak Lodge was built in 2007 and features knotty pine wood ceiling and trim, rich colors and plenty of windows for viewing wildlife across nine acres of groomed mountaintop beauty. If you are looking for contemporary, rustic, secluded, charming and clean Tenkiller lodging accommodations near the lake, then this is the place.
"Cannot thank you enough. Room, bed, beauty, could not ask for more. See you on my next trip up."
Read more about the Main House facilities here…
Want to check out how our cabins and rooms compare? See our handy room comparison here.

Want the finer detail?