If you've ever visited Terrapin Peak, you probably recall the long gravel approach to access the bed and breakfast. To better suit visitors to the location, Terrapin Peak took it upon themselves to make the location more accessible. Working with MJY Dirtworks, Terrapin Peak has now installed a new 200-foot long, 12-foot wide approach to accommodate a variety of travelers.
The new approach was designed to ensure boats, trailers and 18-wheelers could easily access the property. Every aspect of this project was designed with travelers in mind. For night travel, the approach also features new streetlights for added convenience.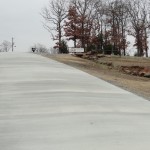 In a celebration for the New Year, Terrapin Peak invites you to come see the new approach for yourself. The bed and breakfast is offering 15% off all rooms with a two-night stay from Jan. 2, 2015 to May 4, 2015. With the savings you can put "Chef" to work and test out his culinary expertise!
*15% off offered when booking a two-night stay. Discount does not include dining experiences at Terrapin Peak. Discount is applied at the time of check-in. Ensuring a dining request is fulfilled requires a 2 weeks notice.