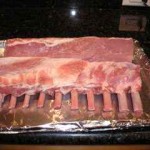 In the beginning: One of the things we love most about being Innkeepers at an Oklahoma Bed & Breakfast near Lake Tenkiller is helping guests make special lodging memories in Oklahoma that goes "beyond" their expectations.That was the opportunity we had with a gentleman that lives in Washington planning a romantic Oklahoma getaway for his wife to celebrate their 6th wedding anniversary. He wanted a Baby Back Rib dinner. After a meal planning conversation with Chef, preparations were set in motion.
Then there was seasoning & marinade: After selecting the best Baby Back Ribs available for this Oklahoma accommodation's event and wedding anniversary celebration the next step was to clean them up and "seduce" them with special seasonings including onion powder, sage, sweet basil, rosemary, black pepper, coffee grounds, paprika, coriander and kosher salt along with a "secret marinade" (but we'll tell you) of zesty Italian dressing, lemon juice, Dijon mustard, garlic, apple juice, cooking sherry and Worcestershire sauce.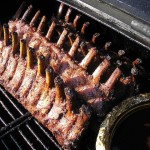 Time for grilling: 8 hours of cooking over hot coals and a blend of smoking woods (you'll have to stay at Terrapin Peak Bed, Breakfast & Beyond for this tip:). Served up with fresh baked cornbread (gourmet recipe, of course), baked potato with the works, mixed greens along with Pineapple pudding cake with plenty of leftovers for the next night's dinner with the family!
Are you ready for some Baby Back Ribs? Specific details or extra cooking tips are available from Chef "What's His Name" during your stay at Terrapin Peak Bed, Breakfast & Beyond!
Simply, with Chef "What's His Name"
Genny and Chef "What's His Name" vacationed at Lake Tenkiller for more than 15 years. At their special Lake Tenkiller lodging they enjoy sharing their home, life stories and love of the area with their guests.
To sign up for a free guide to Lake Tenkiller and receive Terrapin Peak Bed, Breakfast & Beyond news updates Click here