Q: I must be the worst cook in the world. Really! Once I worked at McDonald's and took home a raw burger, cooked it and it was not the same. The omelet you prepared for me was so fresh and colorful I ate the whole thing just for pleasure. It was huge and tasted so fresh. I've made myself omelets before but the veggies always seem to look like tinted jelly. When I try to brown meat in a skillet one side starts good and when I'm done the color cooks off the meat.  What am I missing? What is your secret?
A: Seei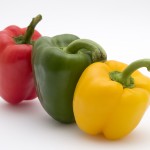 ng that you are choosing the best fresh ingredients, try to improve on how to saute. Saute comes from the French meaning "to sizzle". Keep air space between vegetables. Too close and they start to steam and loose color, a process called "sweating". In principle the same thing can happen with meats. If meats are too close to each other or too big for the size of skillet the sweat and steam are preventing browning. Also, if the skillet is too deep like when cooking burgers, moist air is slowed for escape resulting in initially good browning at the start and upon flipping the spot on the skillet is cooler, hence starting a sweating (steaming) process. One more flip and the brown coloring is starting to steam off. For this reason burger places cook on a large flat griddle top (maximizing moisture escape) and flipping to fresh hot spots. To help keep vegetables color in omelets, place cooked veggies on a paper towel to absorb extra oil and stop the cooking process. If piled up they will steam and loose color.
Simply, with Chef "What's His Name", excerpts of answers to memorable questions from guests that you can use!
Genny and Chef "What's His Name" vacationed at Lake Tenkiller for more than 15 years. At their Oklahoma Bed and Breakfast they enjoy sharing their home, life stories and love of the Lake Tenkiller area with their guests. To sign up for the free guide to Lake Tenkiller and receive Terrapin Peak Bed, Breakfast & Beyond news updates CLICK HERE.